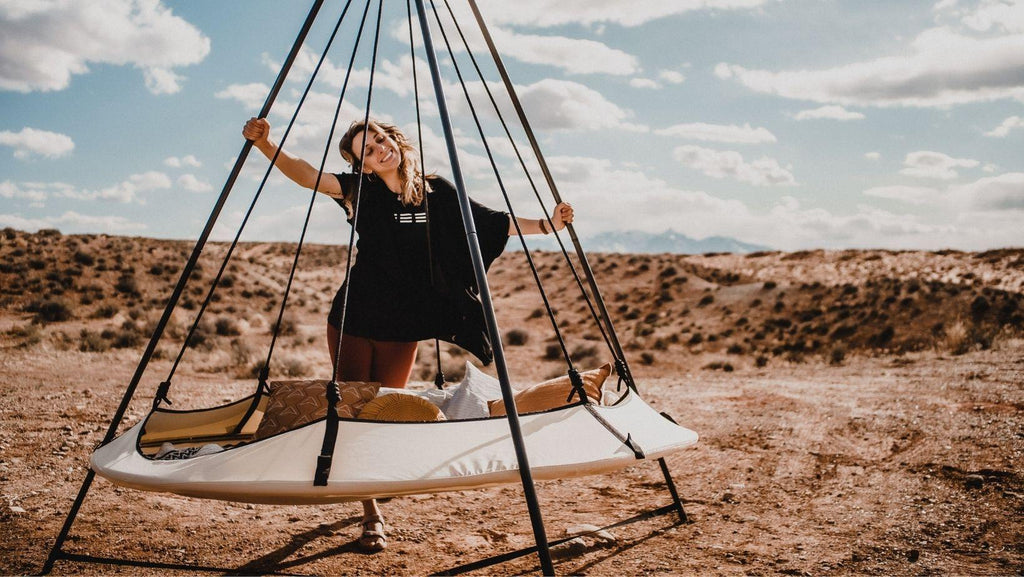 101: A Hangout Pod Guide
Whether you're max relaxing round a campfire or need some TLC space in your own home, you can't beat a Hangout Pod. Simple, comfy and super convenient - a Hangout Pod is the new all-round chill-champion of your home. New to the world of Hangout Pods? You're in for a big surprise. To get you in the know, we've got together a handy 101 Hangout Pods guide so you can hit the ground running.
The Pod
First up - the Pod. Comfort, convenience and tranquility were all at the top of our lists when designing our Pods and we've hit the nail on the head (if we do say so ourselves). Each Pod is created using mold mildew resistant olefin fabric and can be hung with your stand or from a well-supported beam or branch. That relaxing floating sensation is perfect for those deep meditation sessions or when you're just desperate for a quick power nap. Want to make things extra cosy? We'd suggest sprucing things up with some comfy plush cushions to sink into. Cushty.
The stand
Let's be honest - we've all fallen flat on our faces from a swinging hammock at some point in our lives. Hangout Pods are different, with our stand making things even more secure. Assembly for each part of a Hangout Pod is as easy as 1, 2, 3, but our super stands can be put together in just 5-10 minutes. Struggling to find a tree to hang from? No sweat - whip out the stand from your bag and follow the super simple instructions to get everything set up. The stand couldn't be more durable either - supporting up to 450lbs and made from strong powder-coated steel. 
The covers
There's always a small something that has the potential to ruin those special moments. Let's set the scene - you're nice and snug in your brand new Hangout Pod with the campfire glowing, but the mozzies aren't buzzing off. Our mosquito nets keep you protected from all those creepy crawlies that can make your chill time that bit more uncomfortable. We've got you covered if it starts raining too - attaching a weather cover to your Pod is a great way to keep the natural elements out while staying warm and cosy.
The options
Need your colour schemes in check? We get you. If you're planning on setting up a Pod in your house or garden, getting that colour harmony is crucial. Neutral colours, such as cream, grey or black and cream Pods are great for those minimalistic environments. Want to add a splash of colour to your indoor or outdoor space? Tangerine, sage and ink blue Pods will do just that. Our mandala pattern Pods are also perfect for you hippies out there.
At home or outdoors, a Hangout Pod can pack snugly into an easy-to-carry bag allowing you to hit the road at the snap of your fingers. Wherever you are, our philosophy is 'minimal effort, maximum comfort, ultimate fun...'