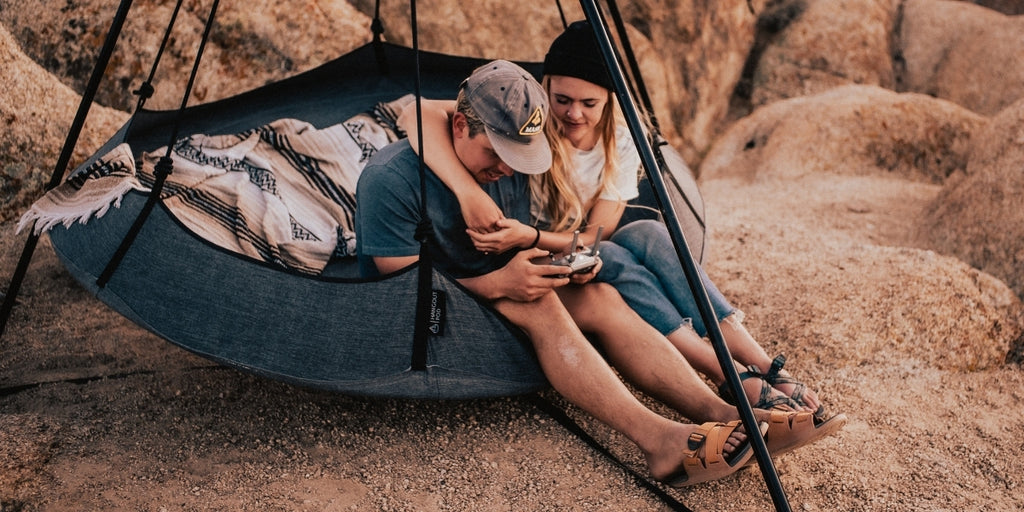 How an outdoor hammock can transform your outdoor space
Looking to bring some of the wildness of a nomadic life into your garden? A Hangout Pod is just the ticket. While our Pods are the perfect travel companion, the ability to pitch up in the garden can have a huge effect on how your outdoor space looks and feels. Need convincing? Here are a few ways we think a Hangout Pod could totally transform your outdoor space.
The zen zone
We all need a bit of me-time now and again. When you've been working inside all day, getting out into the garden and filling your lungs with fresh air can be a huge stress reliever. With a Hangout Pod in your outdoor space, you can transform the garden into a buddha-like zen zone - removed from all your worries. The comforting floating sensation makes our Pods the perfect spot to practice some mindfulness and meditation. With a Hangout Pod tucked away in the back garden, you'll be a zen guru in no time.
Keep on moving
Whether you have a city balcony or a garden the size of a football field, a Hangout Pod can have a dramatic effect on how you decide to design your outdoor space. The adaptability and versatility of a Pod is second to none and can be moved around with ease. Got a big BBQ coming up? Organising where to put your Pod is a piece of cake. Going through a total redesign of your garden? The sleek style of a Hangout Pod will suit any vision you have in mind. Ultimately, our Pod is perfect for those who are constantly shaking up how their outdoor space looks.
The social spot
A Hangout Pod isn't any old piece of garden furniture. Unlike those soggy couches and creaky wicker chairs, a Pod can provide a cool alternative hosting space for when you have guests over. If you're hosting a summer party or a family meal al fresco style, having a cozy space to relax in will keep your family and friends feeling that bit more comfortable. 
It doesn't have to be big social occasions where a Hangout Pod comes into its own either. Gazing at the stars with your best friend on warm summer evenings will make your garden the perfect spot for those deep, meaningful chats. If it starts tipping it down or the mozzies start biting, our Weather Covers and Mosquito Nets will keep things nice and cozy. Either way - a Hangout Pod will change your outdoor space into a super spot for socialising.
Depending on the day, a garden has to be many things. With a Pod, there's no end to how your outdoor space can be improved. If you're looking to transform your outdoor garden into a social spot, a solo space or even redesign the whole thing, a Hangout Pod is the answer.