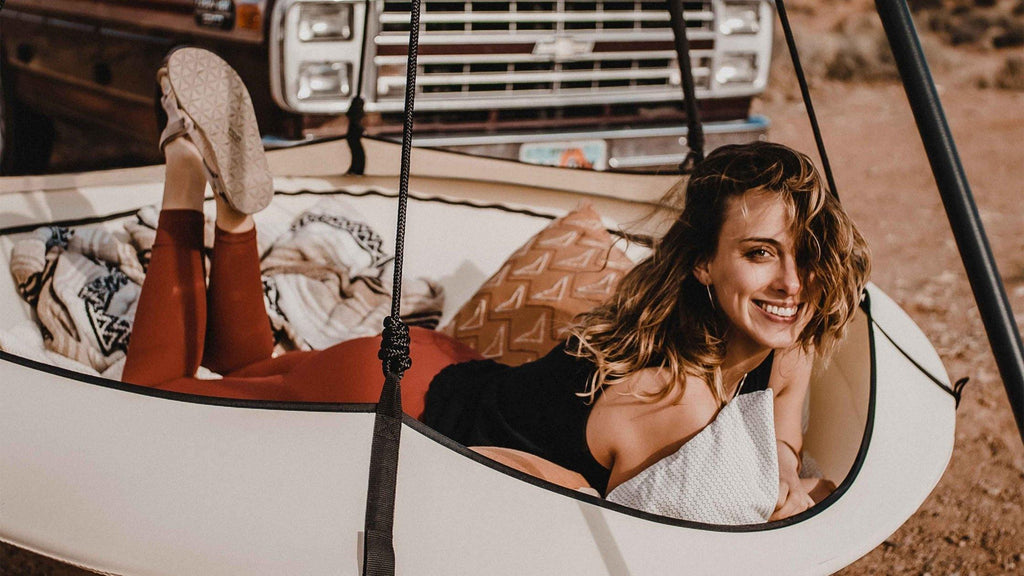 101: What is a hanging pod?
Having a space to chill out is super important when creating a homely atmosphere. Hangout Pod takes those comfortable moments to a whole other level with a sleek design, handy versatility and comfy textures. If you're still on the fence about adding a Hangout Pod to your home, check out our 101 on hanging pods to get the lowdown.
What is a hanging pod?
Hanging pods are hammocks designed with comfort, relaxation and lounging about in your PJs in mind. With a sleek modern style, Hangout Pod took a look at the rules of traditional hanging Pod design, threw them in the trash and came up with something entirely different. 
Hangout Pods are perfect for inside or outside lounging, helping you to max relax no matter the size of your space. Also - unlike most traditional hammocks - you can snugly fit more than one person in a Hangout Pod and up to five kids. Trust us - cuddles with your partner are much more enjoyable when you're cozy and comfy in these ultra-modern hammock pods. 
When and where can I use a Hangout Pod?
Both wanderbugs and homebodies can get tons of use from a Hangout Pod. Got mates over for a barbie? A Hangout Pod is the perfect place for your guests to max relax. Setting out for the open road? No sweat - a hanging pod can be packed up and set up in the snap of your fingers. 
If you're a keen camper, a Hangout Pod could add another dimension to your woodland retreat. Weighing only 22lbs, a Hangout Pod is simple to set up at your campsite and can be easily attached to a sturdy branch. Huddling around your campfire and taking a moment to admire the natural world is made even more pleasant with the soothing floating sensation that comes with a handy Hangout Pod.
Does a Hangout Pod last?
That's an easy one - yes. A Hanging Pod is made from machine washable materials, perfect for when you're on those outdoor adventures. Caught in the rain? Each Pod is water and mould resistant, meaning you don't have to worry about any of those inconvenient packing issues. Also, if you've got kids, the ease of cleaning up afterwards is always a godsend. If you want to truly hideaway from the world, weather covers are a great choice if you enjoy the relaxing patter of the rain.
Ultimately, Hangout Pods give you maximum comfort, with minimal effort. If you're keen to transform your indoor or outdoor spaces into a cozy hideout or take the comforts of home on an outdoor exploration, a Hangout Pod will be right up your street.